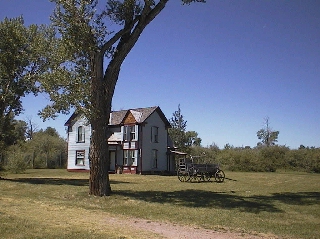 During a recent Western concert tour, traveling
through Wyoming, I remembered this song. It's one that I loved when I
was six years old, and a sidewalk cowboy in Chicago. The recording was
done on location in Wyoming. The picture above is from the grounds of
the original Fort Bridger on the Oregon Trail.
Lyrics:
G D G
As I walked out one morning for pleasure
G D G
I spied a young cowboy a-ridin' along
G D G
His hat was pulled back and his spurs was a-jinglin'
G D G
And as he approached me a-singin' this song
D G
Whoopee ti yi yo git along little dogies
D C G
It's your misfortune and none of my own
D G
Whoopee ti yi yo git along little dogies
D C G
For you know Wyoming will be your new home
It's whoopin' and yellin' and a-drivin' them dogies
Oh how I wish that you would go on
It's a-whoopin' and a-yellin' and a-punchin' them dogies
For you know Wyoming will be your new home
Whoopee ti yi yo git along little dogies
It's your misfortune and none of my own
Whoopee ti yi yo git along little dogies
For you know Wyoming will be your new home
Some boys goes up the trail for pleasure
But that's where you get it most awfully wrong
For you haven't any idea the trouble they give us
While we go drivin' them dogies along
Whoopee ti yi yo git along little dogies
It's your misfortune and none of my own
Whoopee ti yi yo git along little dogies
For you know Wyoming will be your new home
Your mother she was raised down in Texas
Where the jimson weed and sand-burrs grow
Now we'll fix you up on prickly pear and cholla
Till your ready for the trail to Idaho
Whoopee ti yi yo git along little dogies
It's your misfortune and none of my own
Whoopee ti yi yo git along little dogies
For you know Wyoming will be your new home
� 1999 McGuinn Music / Roger McGuinn