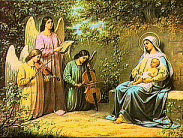 One of my fondest childhood memories is of standing around the piano with my mother and father at my grandparents' house in Chicago. My grandfather and grandmother sat at the keyboard. Every Christmas we would go through the small book of carols. The tree in the next room was decorated with lots of nineteenth century ornaments, and tin toys from Germany were abundantly scattered around the blanket of white material made to look like snow. This is one of the prettiest carols I remember from that time. An English Carol from before 1823.
Lyrics:
The First Noel
[D] The first Noel the [G] angel did [D] say,
Was to [G] certain poor [D] shepherds in fields as they lay;
In fields where they lay [G] keeping their [D] sheep,
On a [G] cold winter's [D] night that was [A] so [D] deep.
[D] Noel, [Bm] Noel, [G] Noel, [D] Noel,
[G] Born is the [D] King of Is [A] ra [D] el
They looked up and saw a star
Shining in the east, beyond them far,
And to the earth it gave great light,
And so it continued both day and night.
Noel, Noel, Noel, Noel,
Born is the King of Israel
And by the light of that same star
Three Wise Men came from country far;
To seek for a king was their intent,
And to follow the star wherever it went.
Noel, Noel, Noel, Noel,
Born is the King of Israel
Then let us all with one accord
Sing praises to our heavenly Lord
Who hath made heaven and earth of naught,
And with His blood all mankind hath bought.
Noel, Noel, Noel, Noel,
Born is the King of Israel
Noel, Noel, Noel, Noel,
Born is the King of Israel