Saturday, April 1st, 2017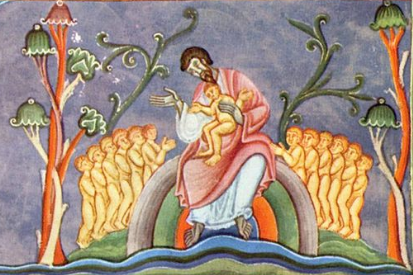 Rock A My Soul is a classic African-American spiritual originating in the southern United States. It refers to a parable in Gospel of Luke of the rich man and Lazarus. The rich man had his reward in life but the poor beggar Lazarus suffered greatly. In death Lazarus went to enjoy the comfort of the bosom of Abraham and the rich man was tortured in Hades.
The counterpoint of the two choruses is just for fun. You gotta go in through the door.
Lyrics:
CH 1)
[E] Rock a my soul in the bosom of Abraham
[B7] Rock a my soul in the bosom of Abraham
[E] Rock a my soul in the bosom of Abraham
[B7] Lord rock a my [E] soul
CH 2) Overlap
[E] So high you can't get over it
[B7] So low you can't get under it
[E] So wide you can't get around it
[B7] You gotta go in through the [E] door
[E] I would not be a sinner
And I'll tell you the reason [B7] why
If by chance my Lord should [A] call me
[B7] Then I wouldn't be ready to [E] die
Why don't you rock a my soul
In the bosom of Abraham
Rock a my soul in the bosom of Abraham
Rock a my soul in the bosom of Abraham
Oh rock a my soul
Why don't you rock a my soul
I went down in the valley
To find me and place to pray
I felt my soul so happy
That I sang my prayers all day
CH out
(c) 2017 McGuinn Music /
New Lyrics By Roger McGuinn